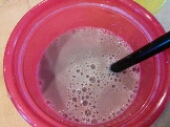 Weeding out all the toxic items from our diet, like high fructose corn syrup and hydrogenated oils, can be daunting and frustrating. One of the easiest (and cheapest!) ways to do this, is to make your own food.
Chocolate milk, is a treat I denied my children after reading the ingredients on the back of the chocolate syrup bottle. And, they begged and pleaded frequently for it. Luckily for me I found this recipe after only a few months into our chocolate syrup ban. It is EASY to make, tastes JUST like the real thing, and its cheap to make. I reuse an old chocolate syrup bottle…and my husband doesn't even suspect.
original recipe by goodthingbyjillee.com
Homemade chocolate syrup
1 1/2 cups organic evaporated cane sugar
3/4 cup cocoa powder
1 cup water
Pinch of REAL salt
1 teaspoon vanilla
Whisk together sugar, cocoa, and salt in a small pot. Slowly, stir in water and bring to a boil. Stir occasionally. Reduce heat and simmer for 2 minutes.  Remove from heat and add vanilla.  Store in the refrigerator.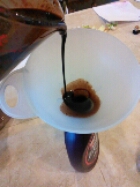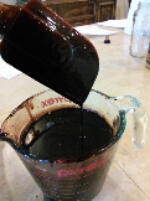 Doesn't it look like the real thing?