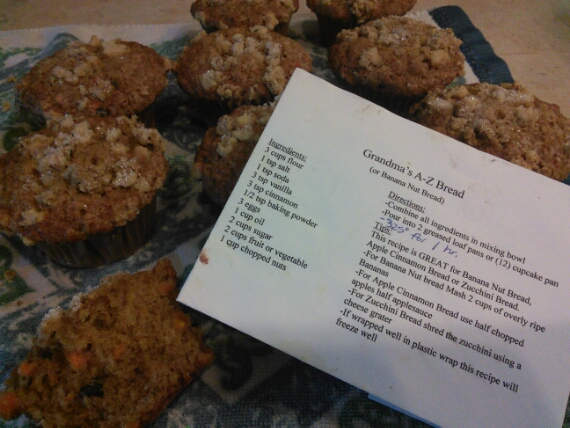 Every family has that dish that grandma is known for…this is mine.  My mother's mother always came to visit carrying two loaves.  I usually lucked out and was allowed to pick which one I wanted.  And I always picked her A-Z bread (usually banana nut or zucchini) over her pound cake (recipe to follow soon…promise).  Both were delicious, but there was something about her banana nut bread with a smear of butter on it that was irresistible.  This is one easy recipe that is a real winner, and since it makes two loaves…freeze one and it'll be a hit twice for half the work.  It really freezes well, nobody would even know.  promise.
3 cups flour
1 tsp. salt
1 tsp. baking soda
3 tsp vanilla
3 tsp cinnamon

1/2 tsp Baking Powder
3 eggs
1 cup Vegetable oil
2 Cups of sugar
2 Cups of fruit of veggie
1 cup of chopped nuts (optional)
Preheat oven to 325 degrees.
Mix all ingredients together.  No need to do wet and dry, just start at the top of list and work your way down. Pour into two greased loaf pans and bake for 1 hour or until tooth pick comes out clean.  Remove from pans after 10 minutes.
*To make banana nut bread use chopped banana and walnuts (tip. when your bananas get too ripe to eat throw them in the freezer for your next batch of banana nut bread)
*To make Banana Nut & chocolate chip add the above PLUS chocolate chips…naughty but oh so good
*To make zucchini bread shred fresh zucchini with a cheese grater (grams often uses half apple sauce half zucchini)
*To make carrot raisin bread shred carrots with cheese grater and substitute raisins for nuts
*To make apple raisin bread use 1 cup apple sauce and 1 cup chopped fresh apple and substitute raisins for nuts or use 1/2 cup raisins and 1/2 cup walnuts
**if making into muffins try increasing the baking powder to 4 1/2 teaspoons to make a fluffier muffin